This is a knife and cooking utensil store that has been in business for 450 years. The knife maker is one of Kyoto's best-established shops. Aritsugu Fujiwara, the founder of the company, was the emperor's sword maker. His techniques have been handed down to today's craftspeople.
Aritsugu kitchen knives are a chef's dream. The amazingly sharp knives are handcrafted one by one to make sure they can bring out to the fullest the taste of the ingredients they slice. The knives are coveted by some of Japan's most famous chefs.
The Kyoto store has become a tourist mecca for foodies, cooking enthusiasts, and chefs from abroad. The store says that 30% of its visitors are not Japanese. One of the reasons is that the store is the only place to purchase authentic Aritsugu knives. They are not sold online or through distributors. If you purchase a knife at the store, craftspeople will give it a final polish right there, and they'll explain how to care for the knife. This is a tradition the store has carried on since its inception centuries ago.
The store is constantly busy, but don't worry because many of the staff members speak English (a rarity in Japan). On a recent visit, we watched a staff member switch from English to French without missing a beat.
Aritsugu is classic Kyoto. The store is stubborn and persistent enough to preserve a centuries-old tradition and spirit of enterprise. If you want to encounter the sort of Japanese craftsmanship that borders on obsession, then Aritsugu is a must-visit spot.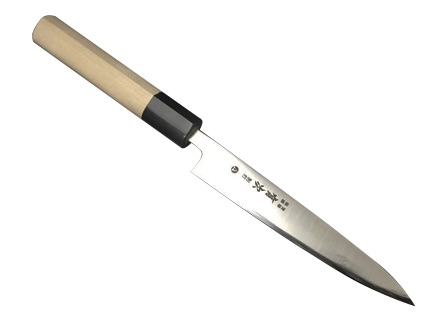 Location & Contact Information