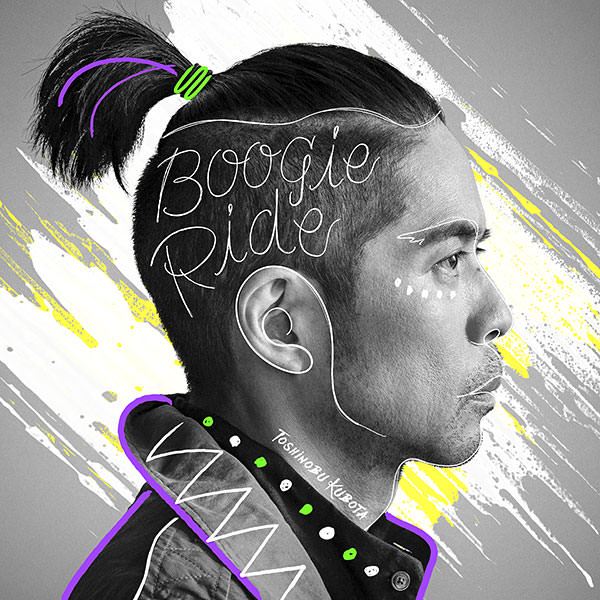 Toshi Kubota – "Boogie Ride"
Known as a "pioneer of black music", Japan's leading soul singer Toshi Kubota has released a new song called "Boogie Ride", which I would like to introduce.
We all know Toshi's representative song "LA LA LA LOVE SONG", a duet with Naomi Campbell released in 1996.  It became a million seller as the theme song for "Long Vacation", a tv drama starring Takuya Kimura and Tomoko Yamaguchi.  Thanks to the synergistic effect of the show's huge success, Toshi has become an artist loved by all generations.
It was interesting to learn in a recent media interview that the collaboration with Naomi Campbell came about by coincidence.  At the time, Toshi happened to live in the same apartment building as Naomi Campbell, and met one day in the elevator.  On impulse, Toshi asked if she would create a duet with him, and the rest is history.
Last year, Toshi released a song called "Boogie Ride".  The single has Toshi's characteristic base line and beat, which he wrote and sang in hopes to cheer up the world.  It is a wonderful song that has 'sparked joy' in me.
Toshi comments, "In this time when we can't avoid feeling depressed, let us aim for an open field where we may unleash our hearts. Let us live in this new era flexibly. I put these thoughts into words and sang along to Boogie's groove"
I am certain this heartwarming song has given many listeners courage and hope, and I hope it will reach audiences far and wide.
  Boogie Ride / Toshi Kubota
Author profile

DJ ramenbeats started his career in the early 1980's selecting music and writing scripts for a radio station in Tokyo Japan. This led him to start DJing in Yokohama and Tokyo, where he became known for his great mixing skills of R&B and Pops of the 80's and 90's. At one point, DJ ramenbeats owned 6 Technics turntables and 8 mixers, and well over 4,500 vinyl records. He also managed his own disco club and DJ bar in Japan.
DJ ramenbeats relocated to the United States in 2017 and resumed DJing helping to widen recognition of the Japanese City-Pop / Kayokyoku culture to an American audience.
https://www.facebook.com/djramenbeats