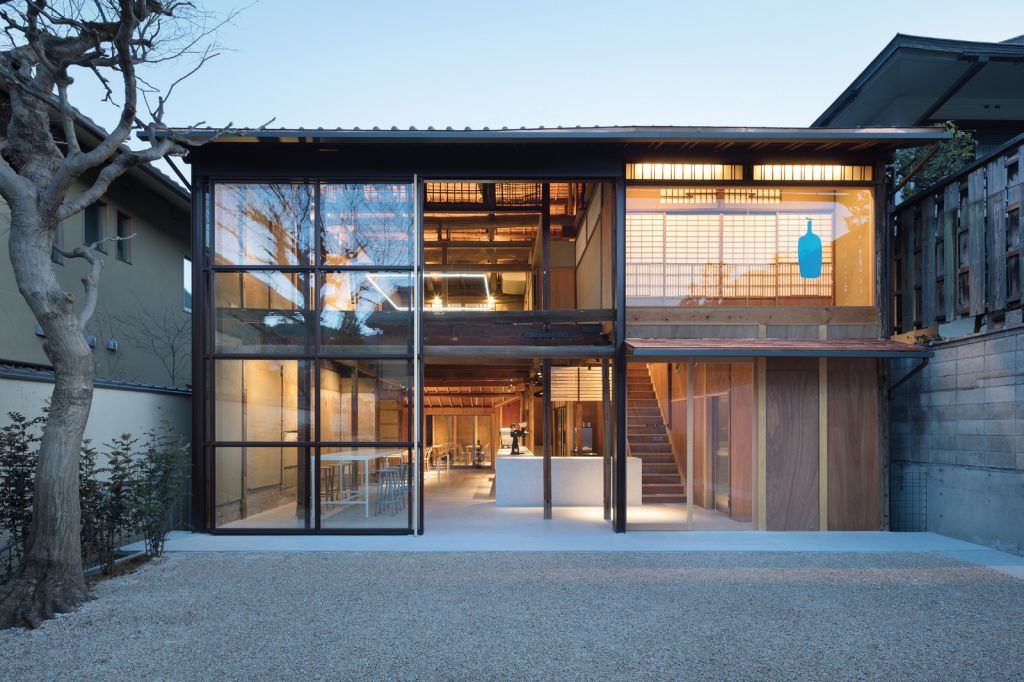 Blue Bottle Coffee started in the early 2000s in Oakland. In its early days, the coffee beans were roasted with a tiny six-pound batch roaster. Those freshly roasted coffee beans were then hand-delivered to customers. Almost 15 years later, Blue Bottle Coffee, now considered one of the major third-wave coffee roasters, has been so successful it opened a number of cafés in California and on the East Coast, and crossed the Pacific Ocean to expand to Japan. In March 2018, Blue Bottle Coffee opened a new café in Kyoto, its first store in western Japan after opening seven stores in Tokyo.
The Kyoto café is located only a few steps from Nanzen-ji Temple in Kyoto's Higashiyama area. Nanzen-ji Temple is one of the most well-known Zen temples in Japan. (By the way, its massive gate, called Sanmon, is a must-see!) The café building was previously used as a Japanese-style inn. It is a traditional townhouse from outside but once you step in, you will see the great illustration of "East meets West." The centuries-old Japanese architecture is well balanced with a modern-style interior, accented with Blue Bottle Coffee's signature blue and white coloring. When renovating the inn, the company preserved the building's original beauty while adding new value to it. The result is a café with a spacious outdoor courtyard that offers an open and welcoming atmosphere as well as tranquility. One of the baristas at the Kyoto café said, "Blue Bottle Coffee always pays respect to the community, its history and tradition when opening a café in a new neighborhood. Each café is uniquely designed and so is this Kyoto café."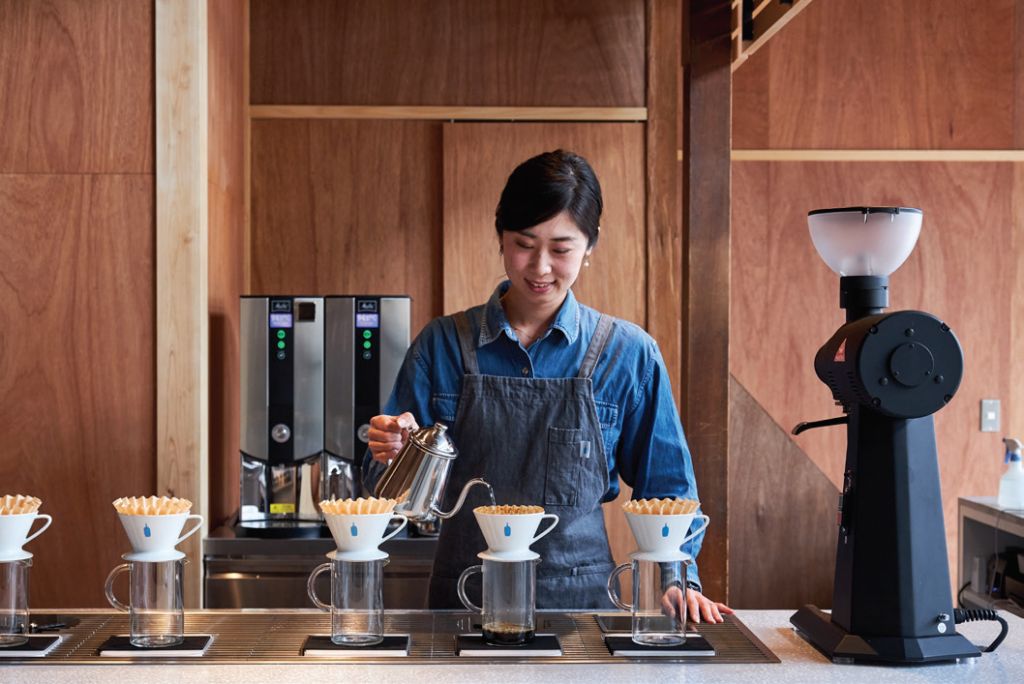 Through countless taste tests, Blue Bottle Coffee determined the precise number of days for each coffee flavor to achieve its peak deliciousness. The company wants you to enjoy your coffee without any distractions so they do not offer Wi-Fi in their cafés. The Kyoto location offers a coffee menu similar to the US stores. Few exceptions are that decaf coffee, milk alternatives such as soymilk, almond milk, etc. and tea are not available. Drip coffee is hand dripped once the order is received; enjoy watching the barista brew your coffee drip by drip! We recommend the Green Tea Mint Cookie, exclusive to the Kyoto and newly opened Kobe stores, to accompany your coffee.
The store seems less crowded in the early morning. It is refreshing to have a cup of java in an outdoor courtyard in such a quiet setting. Drop in before heading out to the Higashiyama area for sightseeing or sit back and enjoy the coffee for a break after strolling through the magnificent Nanzen-ji Temple grounds.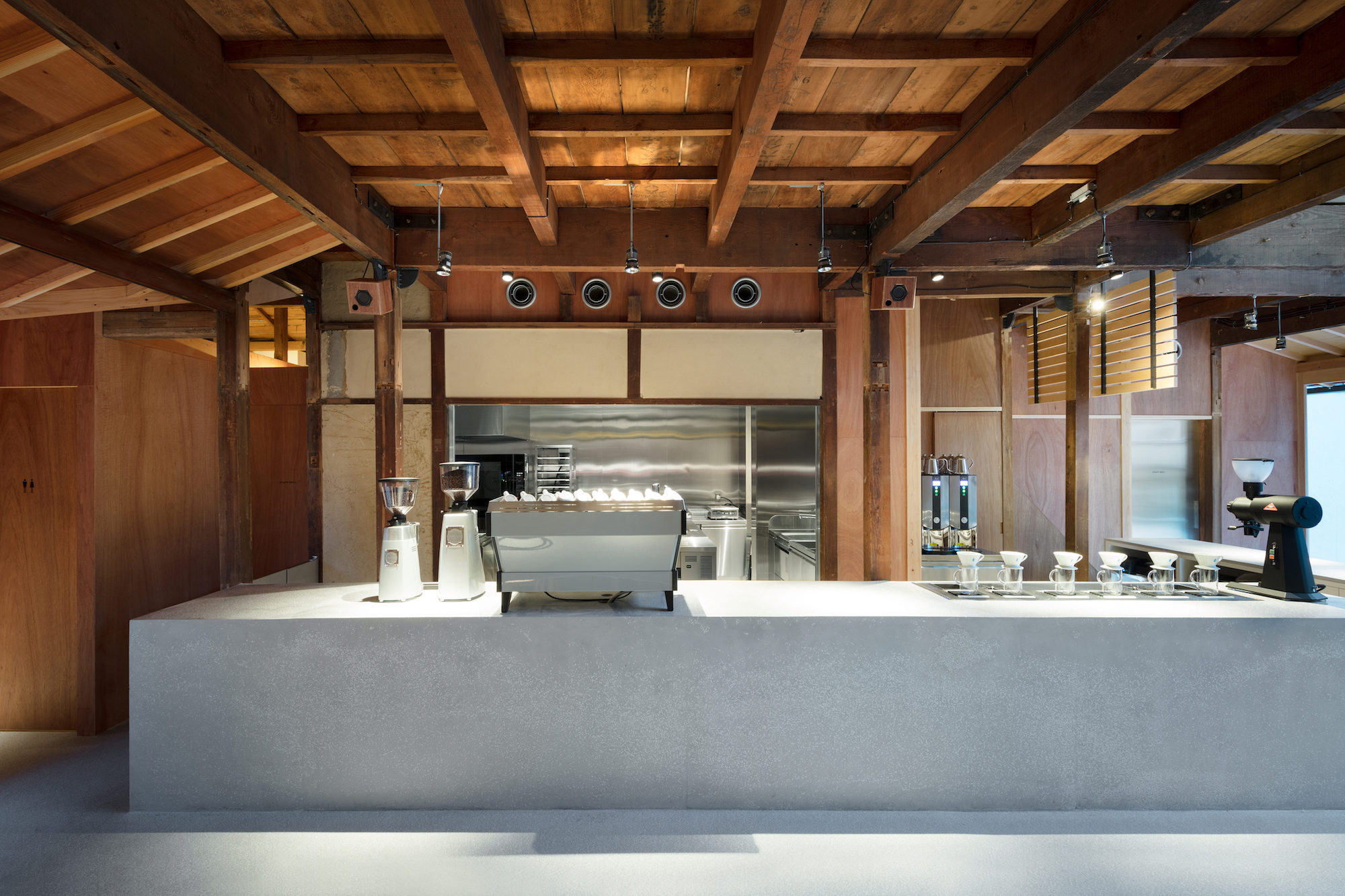 Location & Contact Information
Blue Bottle Coffee Kyoto
64 Nanzenji Kusakawa-cho, Sakyo-ku, Kyoto, 606-8437, Japan