Osaka is Japan's second largest city. Near Kyoto, Osaka has developed as the commercial center of western Japan and is still a uniquely merchant-oriented city. Osakans hate to lose money and time. They speak bluntly and dress with a flair. While it has grown into an international city, at is core, Osaka still has plenty of that old merchant spirit.
Konamon
If you travel to Osaka, you need to try some Konamon, a local food genre that uses flour as its base and is a quick, cheap, tasty traditional fast food developed for merchants on the move. Good examples of Konamon cuisine that you may have tried or heard of are Kitsune Udon and Takoyaki. Kitsune Udon is thick udon noodles in hot soup served with deep-fried tofu that is thinly sliced and cooked in sugar and soy sauce. Takoyaki is shaped like a cake pop. Flour and dashi broth are mixed together with small pieces of octopus.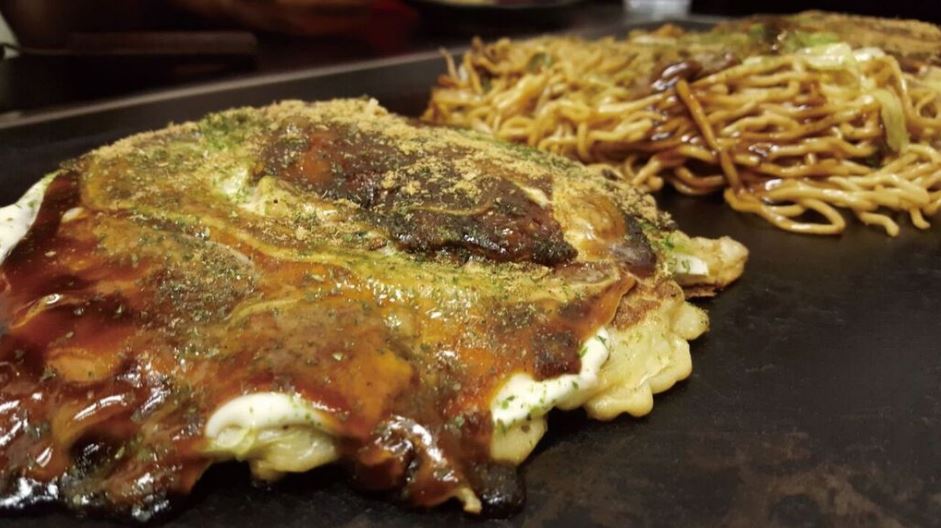 Osaka's most beloved food is Okonomiyaki. Flour is mixed with dashi broth and cooked flat with vegetables and meat or seafood — whatever ingredient you desire. Locals may tell you it's "Japanese pizza," and while it resembles a pizza pie, the taste profile is pure Osaka.
One of the best places to have Okonomiyaki is a restaurant called Chitose. The owner and staff speak English. They are friendly and chatty.
Chitose offers vegetarian options, which is rare for Oknomiyaki restaurants. (Please note: They do not offer vegan options.) To our delight, most of the items are priced around $7 to $10. It's an affordable feast!
Location & Contact Information