Discover Miyagi specialty in Seattle Restaurants Located north of Tokyo, Miyagi Prefecture is home to beautiful Matsushima, hailed as one of the three most scenic sites of Japan, for the more than 260 islands covered in Japanese pine and floating in the bay, the traditional sites and buildings that reflect the history and culture of this region. Masamune Date (1567-1636) was a well-known samurai who ruled the region. He was known to many as the "one-eyed dragon" because of his fierce leadership and the loss of vision in his right eye. He built Aoba Castle in current Sendai City, Miyagi Prefecture's capital, which became its foundation. Miyagi Prefecture offers an abundant variety of foods grown in its fertile lands or caught off its coasts, including its famous Sendai Miso (red miso), sasakamaboko fish cakes and a wealth of fresh seafood. For a limited time only, 12 local restaurants will offer a special Miyagi menu. Head over to one of the 12 restaurants (or all of them!) to discover Miyagi's specialties!
Participating restaurants: Yoroshiku, Yoroshiku East, Suika Seattle, Tamari BAR Seattle, Kamonegi, wa'z Seattle, Teinei, Hannya Tou, U:Don and Shiro's Sushi.
Miyagi Specialty Menu will be available from 11/1/19 through 11/21/19.For details, contact each restaurant.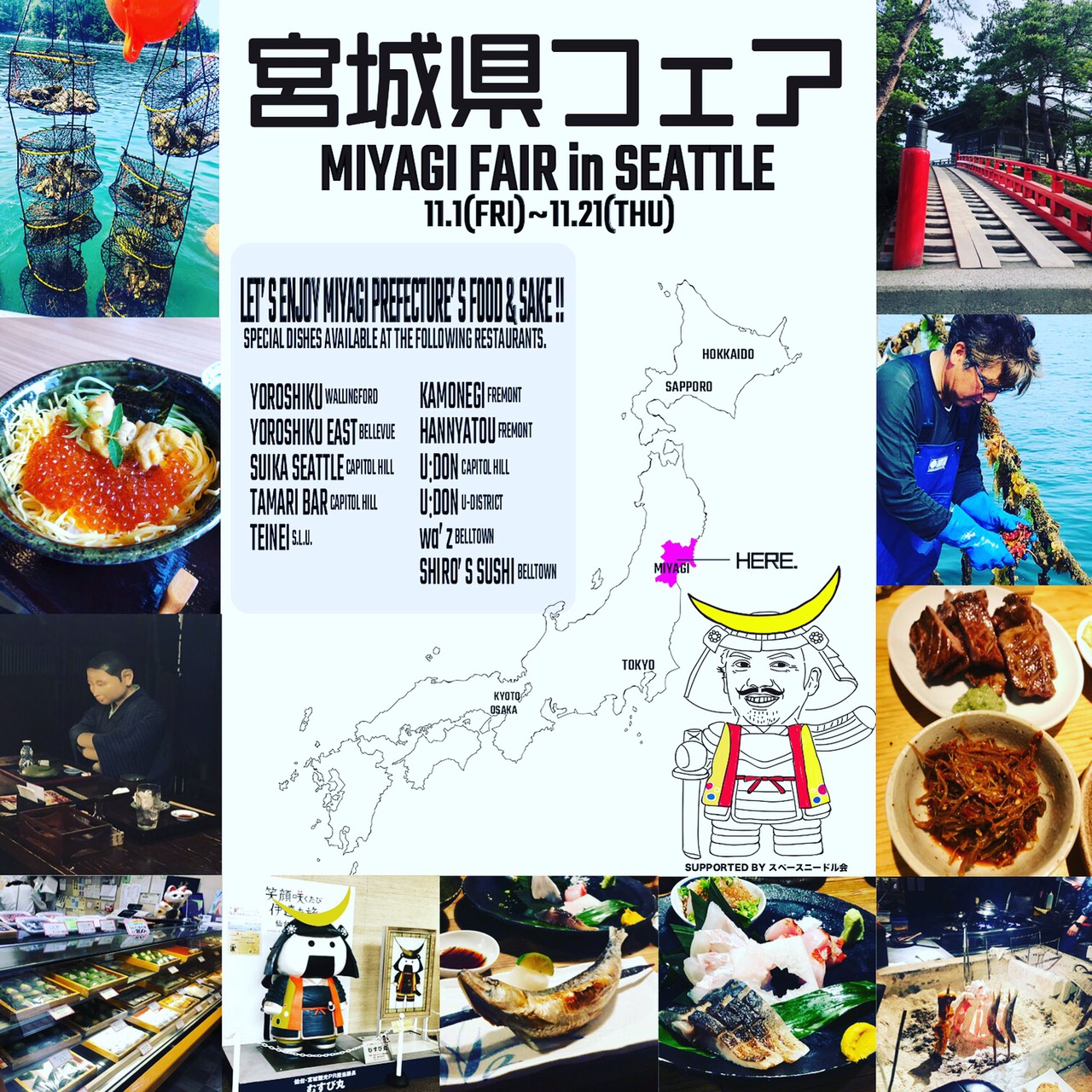 Suika Seattle
Suika Seattle is located in trendy and hip Capitol Hill. Once you step in Suika, you
will immediately notice an iconic chandelier made with 88 sake bottles. The
atmosphere of Suika reminds you of that of izakayas in Japan. Menu offers Suika
original dishes and cocktails. The restaurant is popular with Japanese residents as
well as locals. There is also Suika in Vancouver, Canada.
Tamari BAR Seattle
The owner of Suika Seattle opened an Izakaya bar in recent years. The feel of
Tamari BAR is different from that of Suika; it has 40 seats on the terrace and a high
ceiling. Diners can enjoy the craft cocktails and dishes that satisfy your eyes and
palates in this relaxing bar. The wide selection of Japanese sake is also available.
Yoroshiku is a stylish Japanese restaurant in Wallingford, a popular residential area
among college students with a number of pubs. Yoroshiku offers menu from
Hokkaido, a wide range of Izakaya dishes and ramen. Yoroshiku East is now open in
Bellevue. It is one-of-a-kind restaurant in the Seattle area: it specializes in
"Tsukemen." Its unique menu includes 4 different types of tsukemen, 3 kinds of
ramen, zangi, craft beer from Japan, and cup sake.
Kamonegi
Seattle's "it" restaurant. Kamonegi offers authentic handmade soba noodles. Despite
the low profile of soba noodle, Kamonegi is the talk of town.
View this post on Instagram
A rare authentic Kaiseki restaurant in Seattle. wa'z has been introduced in local
media a number of times. The restaurant offers a large selection of alcoholic
beverages.
A casual Izakaya Teinei offers ramen, sushi and izakaya menu. A lot of dishes go
well with Japanese sake and beer.
Hannya Tou
The owner of Kamonegi opened a bar, Hannya Tou. Guests enjoy fermented
appetizers and drinks. The dishes are prepared with homemade miso, vinegar, koji
(rice malt), natto etc. Japanese sake is also a fermented drink.
Seattleites are so lucky to be able to enjoy the popular Sanuki Udon locally. U:DON
prepares the noodles daily. The chewy texture of udon is popular among Japanese
diners as well.
Shiro's Sushi
Shiro's Sushi has been nominated by Zagat and other renowned food magazines
numerous times. The restaurant is well received among Japanese as well as local
Americans.